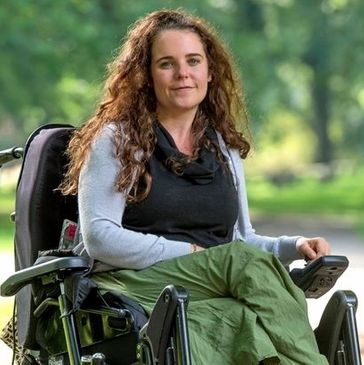 Cherylee Houston MBE
Cherylee has been an actor on Coronation Street since 2010 and has just had her sixth instalment of Tinsel Girl on Radio 4.  She was fundamental in setting up audition courses at both Coronation Street and Emmerdale for disabled actors, and also set up a Disability Confident Event housed between the BBC and ITV.
Cherylee won the Women In Film and Television Achievement of the Year Award 2019 and the Doubleday award in 2020, she appeared in the New Years Honours List 2021 to receive and MBE.
She
was shortlisted in the Penguin WriteNow for her work on her book Tinsel Girl. She likes to grow vegetables and is up for them being amongst the flower beds.
Cherylee trained at The Arden School of Theatre and has been running workshops for over 20 years. This includes teaching modules at Arden School of Theatre, LIPA and Edge Hill University, running week-long audition courses at Big House Theatre, and outreach sessions in schools culminating in Disabled/ non-Disabled mixed youth theatres. Cherylee taught "How to make your work accessible" yearly for five years at The Youth Theatre Conference until its close. She is the Author of "How to make your work accessible Youth Theatre Handbook" 2008 which was disseminated to every youth theatre in the UK. She worked for 12 years with various disability arts agencies running drama workshops for young people with disabilities. She has spoken several times at the Labour Party Conference, Houses of Parliament and on Channel Four News about disability cuts. Cherylee's other credits include Tinsel Girl, afternoon play (written by Cherylee), Holby, Doctors, Thing Called Love, I'm with Stupid, and Little Britain.
Cherylee believes the media has an incredible power to change how disabled people are treated in society by increasing our presence and stories on screen.