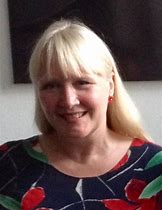 Anne Price - Board Member
Anne has been volunteering, alongside her son Andrew, with TripleC since it began. She is a key participant in many of TripleCs projects. 
Anne has taught French and Spanish in both primary and secondary schools as well as been an SEN school governor.
She has worked as a reporter at Essex Radio and as a presenter at Radio Warrington. Anne volunteers for Muscular Dystrophy UK and is passionate about inclusivity in the Arts.
In 2017 Anne graduated from Salford University with am MA in TV and Radio Scriptwriting. Since then she has had her plays performed at 53two for Offcut and Southwark playhouse with Directors Cut Theatre, London. Recent work has been with a Rapid Reel, Coronavirus Theatre Company and Roar Productions. 
Anne is also a member of Bee Vocal Choir (which TripleC helped launch and run for its first two years ) where she loves to sing. 
She is also a qualified reflexologist and aromatherapist.